After being picked 8th overall by the New York Knicks in the 2020 NBA Draft, a waterfall of tears came spilling from Obi Toppin's eyes.
The college basketball Player of the Year averaged an extremely efficient 20 points and 7.5 rebounds per game in his final season with Dayton, and was considered one of the most NBA ready prospects in the draft.
"Me repping my city, it's amazing," he said. "A lot of people pray to be in this position, and I'm not going to take it for granted."
The thrill Toppin exhibited to be playing for the team he grew up loving was enough to convince the naysayers he may have what it takes to bring the Knicks back to their glory days, and that meant a lot to fans who have been sulking the last few decades.
Yet here we are just a few months since the draft, and Toppin is barely hanging on in a league he seemed so ready to play in.
Obi Droppin
At the beginning of the season, Toppin missed 10 games due to a calf injury, which raised concern almost immediately. But there was still hope he'd return to the rotation and be an effective option despite playing behind a much improved Julius Randle.
That belief, unfortunately, disappeared quickly.
To date, Toppin has scored in double digits three times in 31 games, and is only playing around 13 minutes per game, contributing very little outside of hustle.
Per Cleaning the Glass, his 51.8 eFG% ranks in the 39th percentile for power forwards, and he continues to shoot atrociously from the field aside from shots at the rim (64% efficiency).
Toppin also boasts a negative net rating of -4.8, though his defensive points allowed per 100 possessions is his best trait. He ranks in the 82nd percentile for power forward defensive rating at 108.6, which looks okay in the grand scheme of things.
What's the issue?
The real concern regarding Toppin is he is one of the older rookies in his draft class at 23 years of age, has had a horrid start to his career, and continues to lose his bearings when his number is called.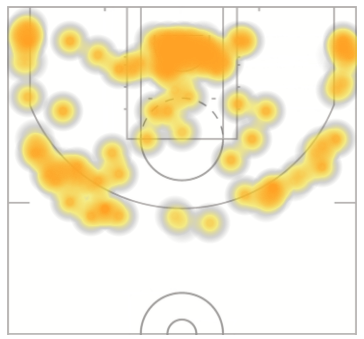 But Toppin is not entirely to blame for his downfall. Part of the reason comes as a result of what you see above. Toppin has been relegated to a role he otherwise isn't good at: a stretch-4 with the occasional back to the basket play.
Toppin shot 39% from 3PT in his last season at Dayton, but on minimal volume. Coming to the NBA and being forced to shoot from a further distance so frequently was never going to work.
As we can see, Toppin's corner three heat map is saturated, as 20 of his 45 three-point attempts have come from the corner. He is in the second percentile of power forwards as he is only converting 15% of his shots from that spot.
His efficiency (40%) from other spots around the three-point arc is at least a bit reassuring, but at least half his attempts from the field are from distance, which was never Toppin's game to begin with. He's being utilized incorrectly, and with good reason, as Randle has completely evolved, which has assuredly put a wrench in developing Toppin.
Trade market
Which brings me to the lead point of this post. Maybe the Knicks should consider trading Toppin while he has value.
For the Knicks' sake, it may be wiser to wait until the season is complete, Toppin has a full training camp and summer league with the team, and there isn't a rushed feeling to his career.
But again, he is 23, was deemed an NBA ready athlete, and has not delivered, so a change of environment may help both parties.
Fans are even calling for the likes of Kevin Knox to take over Toppin's minutes, since he was showing some capability of three-point scoring early in the season. Likewise, Knox is two years younger than Toppin, and has managed to show some signs of development in spite of continued struggles.
Make the Magic happen
If Toppin is moved, however, he can hopefully bring some value back to the Knicks. One team that "could" consider a deal for Toppin is the Orlando Magic, who are beginning to look like sellers come the deadline, so a rebuild is imminent.
Like Fritz suggests, Terrence Ross is a player the Knicks should consider. He might be a Knicks killer, but if we get him he can never hurt us again.
Aaron Gordon has reportedly been made available from Orlando as well, a player who could end up being too expensive for them. Toppin will be on his rookie contract, swaps right into place for Gordon, and has the potential to blossom with Markelle Fultz and Cole Anthony at his side.
The Knicks would accomplish the acquisition of wing scoring and defense, the Magic get to clean house and bring in a high-flying prospect who can unleash his potential in the right setting.
Thunderstruck
Sam Presti and the Oklahoma City Thunder, too, might consider a deal for Toppin, as Presti has been notorious for hoarding draft picks while kickstarting a bit of a rebuild.
Shai Gilgeous-Alexander has come into his own, is having a career year, and could use all the talent he can get around him. Darius Bazley, among others, has made a name for himself, so there is a possibility Toppin may have a limited role, though not as limited with New York.
Someone like Justin Jackson, who himself has not found a niche, could be someone to go after, hopefully packaged with a pick.
Jackson is averaging a pedestrian 6.5 points per game for his career on 42.8% shooting from the field and 32% from 3PT, but has only played 19 minutes per game that entire time. With a bit less of a leash, Jackson could bring some effectiveness on the wing for a Knicks team that is otherwise lacking shooters and creators.
Plus, Jackson remains a net positive On/Off per Cleaning the Glass, as he boasts a +2.7 differential.
Long live the King
And lastly, the Sacramento Kings could be in the market for a trade themselves.
Harrison Barnes is a name we've seen mentioned in trade rumors of late. He has two years remaining on his contract after this season, but the Kings continue to plummet despite De'Aaron Fox' breakout year and Buddy Hield's perimeter shooting remaining strong.
I don't think the Knicks trade for Barnes, as he'd likely prefer an immediate contender, but Hield could be in their sights.
Hield is in the midst of a top-heavy contract extension with some juicy incentives, is 28 years old, and is likely already in his prime.
He's currently taking a career-high 10.4 three-pointers per game, shooting 37.4% from that range, but has crippled his FG% for the season (below 40%).
While his strength is perimeter shooting, being relegated to that has cost him his versatility, which helps him expand his game. Pair that with the discourse he's had with Luke Walton and you get the perfect recipe for a hostile work environment.
If the Kings' aim is to rebuild themselves, Toppin can fill a void they'll eventually lose with Barnes out of the picture — though a trade for Hield will require a pick coming to New York as well, in my opinion.
Closing thoughts
Toppin was simply brought into an unfortunate situation with respect to his expectations.
No one could have seen such a jump from Randle this season, nor could they have foreseen the explosion onto the scene by Immanuel Quickley, taken 25th overall.
It can't go without saying that Quickley's steal of the draft performances have overshadowed Toppin's struggles. There are plenty of viewers that still acknowledge Toppin and his flaws, but if not for Quickley, the judgement would be far worse.
I would like to see Toppin thrive in New York after the emotion and compassion he showed for being drafted here — and from a business perspective, the new Knicks brass was dead set on drafting him if he fell to us.
Nonetheless, if Toppin were traded, I think everyone, including himself, would understand the reasoning.
Watch Our Midseason Grades Here
https://www.youtube.com/watch?v=8NO77TVE55Q&t=969s