Last night's game wasn't pretty… but the Knicks won! If you didn't get to watch, you're luckier than most. But to make sure you don't miss any future New York Knicks contests, download the FuboTV app and sign-up for a 7-Day Free Trial with this link for access to the MSG Channel and your favorite team!
Damned if you do, damned if you don't
Donovan Mitchell and Dejounte Murray were the big tickets of the offseason once Rudy Gobert was shipped to Minnesota. The Cleveland Cavaliers and Atlanta Hawks, respectively, threw their treasure chest(s) at the Jazz and Spurs to get these guys, and rightfully so. The Cavaliers and Hawks both got booted out of the playoffs after hard-fought efforts to even get there. Cleveland was actually bounced by Atlanta, so you'd think they'd want to try and get Murray to be a Trae Young stopper, but Atlanta was simply quicker to the punch.
I say all of this because the Knicks were dragged through the mud by fans for not going out and getting one of these guys, all without acknowledging that before Jalen Brunson was signed in free agency, the Knicks didn't have any reason to get either guy. Those on that side of the coin have an argument, in hindsight, that the Knicks needed to commit the assets to get one or the other because no one knows when the next disgruntled star will come.
Brunson was a great pick up, in my honest opinion. I've defended the acquisition left and right, and despite playing poorly against the Nets, you can't deny his value and importance to this roster. As I've done my research, considering the number of responses I've seen to his recent play, I only feel more reassured that he was the right get.
While it's still early, Brunson is already averaging a career-best AST% of 32 (per Basketball Reference), and is ranked 45th in RPM for the NBA (per ESPN). It's not easy to be an NBA point guard, let alone one that is just about six-foot-tall, and here Brunson is continuing to play as one of the most physical and efficient guards in the league.
Rough games are bound to happen, especially on this roster. The talent is present, but how the talent is used is the issue. Mitchell and Murray are both incredible and better than Brunson, to be fair. But trading for one or both would have cost an arm and a leg and there was still no understanding of this team's identity or vision when they became available. And this discussion was a broken record over the summer as it is, but how would people feel if the Knicks replicated the Carmelo Anthony deal only to end up 5-6 through their first 11 games like this team?
Hindsight is 20/20, but there's no definitive truth that Mitchell or Murray would have been enough to get this team hot outright. Together? Sure. That's an insane backcourt duo and arguably the best the Knicks would have ever seen, but at what cost?
Mitchell had Gobert all those seasons, there is no one of note that compares to him in New York. Murray always had decent teammates to start his Spurs tenure, but he was otherwise a very successful individual player on a well-run Spurs team.
Which brings me to my next thought.
The Culprit(s)
Tom Thibodeau, while not solely responsible for this team's transgressions, is officially on the hot seat — or at least he should be.
The Knicks mustered 37 wins last year, but could have debatably seen more success had Thibodeau adapted sooner. This year, they're 5-6 already, albeit against some contending teams, but let's acknowledge these 3:
Blown lead against Cleveland; They could have beaten Donovan Mitchell
Blown early lead against the Hawks; Murray gets the better of NY
Close matchup in Boston turned to blowout; Tatum eats
These were all winnable games for New York. Thibodeau's judgement and reaction timing, or lack thereof, resulted in these losses. Thibodeau's inability to adjust and adapt the team to mitigate the damage and make opposing teams uncomfortable resulted in these losses.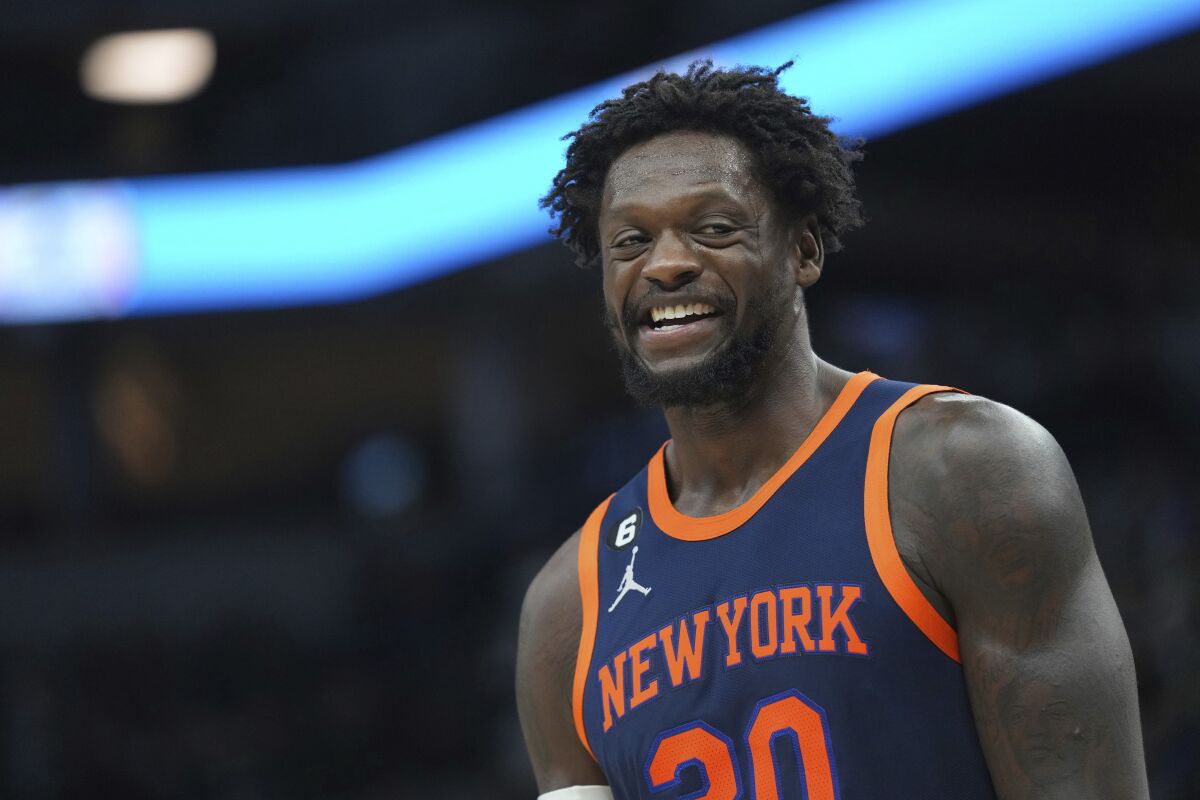 Julius Randle, who started off looking like a changed man, continues to be a menace to the fanbase. His turnover prone dribbling and ball stopping has returned to curse the team. Per Basketball Reference, his 15.3 TOV% is actually his worst since his fourth season in the NBA. He's turned the ball over by losing control 15 times this season, putting him on pace for over 100 occurrences of this for the 2022-23 season.
Randle bungling the ball on post ups, drives to the paint that are cut short, and in isolation at the top of the 3PT line needs to end. This is now the fourth season that fans have asked for a solution, and Thibodeau continues to neglect the error(s) happening right in front of him.
RJ Barrett is not safe here either. He's played relatively poorly, despite fixing up his act the last seven games. It's the same old story for him on drives to the rim where lurking centers punch his layups through the space-time continuum into another realm. He continues to drive to the hoop, pick up his dribble on a half spin, and ends up frozen.
The end result? The Knicks remain simply middle of the road.
Are the Knicks a simulation? They are now 5-5 with a +0.0 point differential. They are 16th in offense, 16th in defense, and 15th in SRS. They have played five home games and five road games. They are 1-1 in overtime.

— John Hollinger (@johnhollinger) November 8, 2022
Hollinger's tweet came, of course, before the Knicks' games against Brooklyn and Detroit. Knicks haven't beaten Brooklyn since Thibs has been the coach. To make matters worse, the Knicks remain winless against Ben Simmons, you know, this guy:
The Knicks are without Mitchell Robinson and with Quentin Grimes' lingering foot troubles this season's trajectory doesn't look good. Tempering expectations should continue to be a goal of this fanbase, but it's tough. We've felt deprived, and missing out on some of the league's best talent, whether by choice or by methods beyond this franchise's powers, stings. But maybe there's hope?
50 Shai's of Great
The Oklahoma City Thunder come to town on Sunday, November 13, to face the New York Knicks. You likely know where I'm going with this.
Rival Execs Hear Shai Gilgeous-Alexander 'Frustrated With The Losing' https://t.co/WPwU5AgNaL

— RealGM (@RealGM) November 10, 2022
What star isn't sick of losing, right? Shai Gilgeous-Alexander tasted playoffs twice to start his career, and has now been stranded in no man's land for two seasons posting eye-popping numbers to boot. He could have been had in the 2018 NBA Draft; whether he'd have the same career path is up for debate. Nonetheless, SGA is a beast, and whether this is speculation or not, losing is a bummer so one has to figure there's truth to the rumors.
Kristaps Porzingis voiced his frustration with the same problem some years ago, and then he got shipped to Dallas. The Mavericks had Luka Doncic at the time, and he'd have the Mavericks on track to compete already. It would be insanely hopeful of Knicks fans to think we're on his trade target list… but if we could get him.
Gilgeous-Alexander is a special player, and he'd instantly make this roster a competitor as things stand. It is evident that the Knicks need help, and Brunson is getting this team by for now, but he's only a stepping stone. Now that the Knicks have a gauge of how this roster operates with Brunson leading the charge, trading for a guy like Shai makes sense, and I'd offer just about anything I could to get him.
We'll see how things shake up after their contest on Sunday.